WOODSIDE WILDLIFE AND FALCONRY PARK
Our Foundation Stage and Year 1 children have a fantastic time talking to the animals!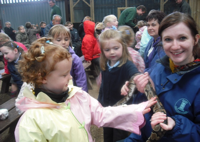 On Monday the Koalas and Kangaroos went to Woodside Wildlife and Falconry Park in Lincoln. We had a non-stop action packed day that was very enjoyable. We had the chance to meet Lemurs (one ate an apple off Mrs Kightley's head!), minibeasts (Miss Steeples held a tarantula!), reptiles (Miss Elsom loved the snake around her neck) and rats (Miss Eldred's favourite animal). Some children and Mrs Lambley even got the opportunity to fly Plop the Owl. The weather was miserable in the afternoon but we all had a thoroughly fabulous time. The Park Keepers mentioned how well behaved our children were and we would definitely recommend anyone thinking of visiting to do so. A big thank you to all of the adults who supervised the children and to parents for their contributions. We could not have had such a brilliant time without you!