PYRAMID CLUB – YEAR 6 CHILDREN
What a great reward for their contributions for the Pyramid Club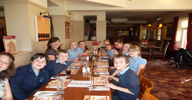 Sadly the Year 6 Pyramid Club has come to an end but we made sure we went out with a bang!
We had great fun at the pyramid beach party on Wednesday where we invited the staff to come and join in our party games. Miss Harkins was very competitive playing musical surf boards!
While on Friday we walked to the Farrier after school and had a lovely meal. We really enjoyed reminiscing about all the exciting things we had done during the club. Some of us enjoyed the games while others enjoyed trying new foods but we all agree our memories of Pyramid Club were unforgettable.