Rugby team battle it out
An introduction to the game of rugby proves to be great fun.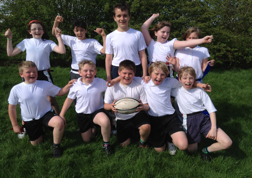 Huntingtower's rugby team played their hearts out to their first ever victory in a game of rugby! Mr Anderson was very privileged to watch all ten players so eager to be part of the team during the Grantham Schools Rugby Festival. Many tries were scored and great rugby played. By the end of the festival the team was really playing flowing rugby; passing between players, working as a team and really enjoying themselves. Well done to all of them.