Newton shows Grantham how to make Easter fun!
Newton wanders around Grantham giving pleasure to so many people. Well done PTFA!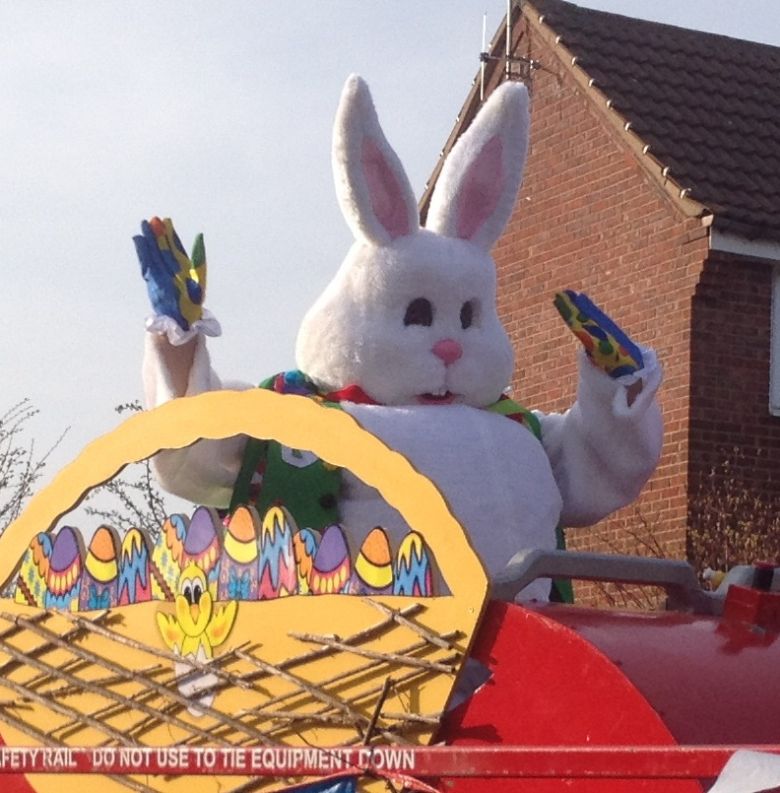 Over the last few weeks the PTFA have been taking Grantham's own Easter bunny, Newton, around local primary schools and roads to raise awareness of healthy eating and money for charity.
This event was the brain child of a parent of three children at Huntingtower. Following much planning, the Bunny and its army of followers set off around Grantham to raise money for the school, The children's ward at Grantham Hopsital and Grantham Hospice. Pounding the streets was very productive and on the first couple of nights they raised over £1000. We are still awaiting the final total but the school is extremely grateful for their work.
The school is not the only one who is grateful for the PTFA's hard work. Look at some of these letters in the Grantham Journal.
"EASTER eggs come in all shapes and sizes and so do the helpers of Newton the Bunny!
A huge thank you for making my Easter this year. What a lovely idea to parade around the streets of Grantham, for all the children to get a glimpse of our very own Easter Bunny. My children have not stopped talking about it and can't wait to visit him in the Isaac Newton shopping centre on Good Friday.
He also visited them at school. Vegetables was a naughty word in our house to the children and now I can't keep up with the amount of carrots they want to eat, and all
because of Newton and his healthy eating campaign!
Thank you Newton and to your makers – a true brainwave and a glorious idea to uplift Grantham.
Samantha Spalding
Earlesfield, Grantham"
Not only has Newton been walking the streets but he has also been visiting the Morrisons Centre putting smiles on people's faces. He spent a few hours raising money and making people happy.
What a wonderful effort by everyone involved. Not only were the PTFA helping but so were the Grantham Fire Service and other friends. A sincere thank you from Huntingtower Community Primary School to them all. Can't wait to find out what the total was for these good causes.
Not sure what good it has done then read the following letter to the Journal:
"WHAT a lovely evening I had last night visiting my friend on Barrowby Gate.
The sounds of uplifting music waving through the air, looking outside to be greeted by Newton, Grantham's very own Easter Bunny. What a wonderful and heart-warming surprise. A cloud of yellow fluorescent jackets and bunny ears, cheerfully knocking doors to ask for donations towards their chosen charities.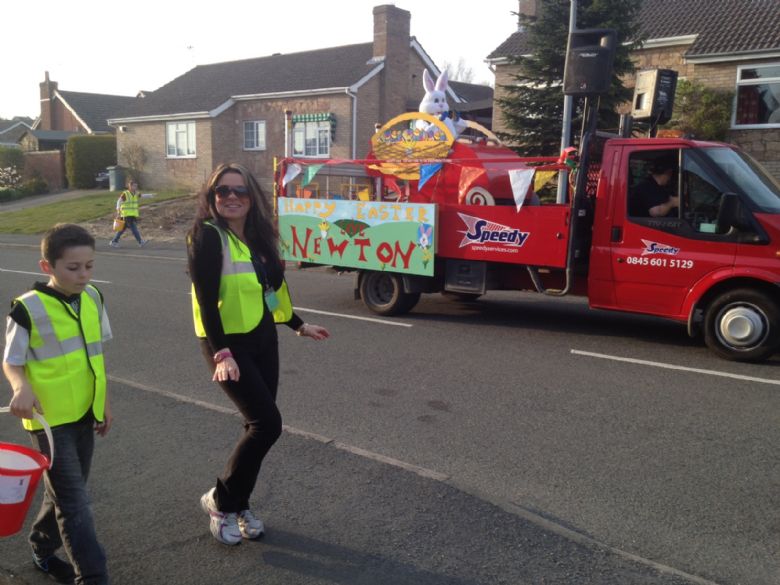 How unselfish of whoever thought up this brilliant idea. The amount of work that went into this creation must have been immense. I know, because I have organised events in the past in my old home town.
Well done you and well done to the children of Huntingtower School, who showed total respect to their elders and gardens alike by sticking to the footpaths.
A total triumph for Grantham and the community. So a huge thank you back from us.
SUE WRIGHT
Barrowby"