Reading is the Best!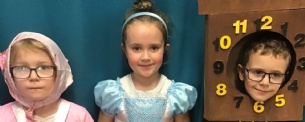 Every day is an opportunity to celebrate books and reading at the Academy but this week has been a little bit more special as it has been World Book Day. Thank you to everyone who helped provide costumes for their child. They looked amazing and we know that they enjoyed spending time participating in the range activities that were provided by the staff. We also really appreciated the support that we received from Random Penguin House who not only came and spent time with our Year 3 pupils but also gave each child who they worked with a book and also a box of amazing books for the Academy. Their staff are regular volunteer readers who are very generous with their time and great role models for the pupils.
It made us very proud this week to receive notification from our friends at the Rotary Sunrise group that many of our old reading books have finally reached their destination in a school in The Gambia. We're so glad that these books have a renewed purpose and hope that we can build our relationship with this school in the future. Please see the video for more information about World Book Day as well as other achievements in the Academy.