Off to a Flying Start!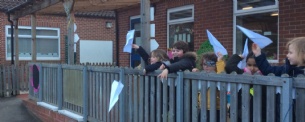 Welcome to Term 4! After a very stormy and tempestuous half term, we are all delighted to return to our everyday routines at the Academy. Even in our first week back, we seemed to have experienced a myriad of weather types but this has not dampened our spirits. Many of the Y5 pupils have completed their bikeability training, we have worked with our community partner Sainsbury's to help raise funds for Sport Relief which will take place on Friday, 13th March and just about every square centimetre of the Academy has been taken up with the pupils' learning.
Next week is World Book Day and this term will be taken up with our Reading Challenge. It is universally acknowledged that reading is the secret to success and all of the staff are committed to provide our pupils with the skills and desire to be proficient, fluent and passionate readers. The challenge is very simple- the more they read, the more they will support their class in the weekly competitions. There are many merits to be won as well as an overall prize for the class with the most reads in KS1 and EYs, the most quizzes and words read on Scholastic Reading Pro for KS2. We can't wait to see if we beat last year's records!
We look forward to celebrating World Book Day on Thursday, 5th March with our focus being upon the Traditional Tales. Did you know that nearly all modern stories follow a few plots and nearly all of them were first recorded in stories that we share with our youngest children? How many times have you read about a rags to riches story - this is often called the Cinderella plot! We look forward to seeing the pupils (and staff) in their costumes ready to enjoy the day.