Passionate Pupils!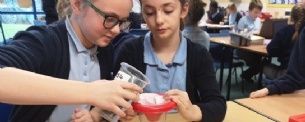 One of the Trust values is Passion and we definitely take our values seriously. The pupils are fully immersed in our opportunities for learning our curriculum provides and it is their passion to take part as well as learn more that drives their achievement. The are committed citizens in our community and this has been demonstrated in so many ways this week. The Tower Captains have been selling Remembrance items in anticipation of Remembrance Day on Monday, 11th November and we are delighted that both our Librarians and Reading Buddies are working to help develop our passion for reading, too.
We are beginning to put our plans for our Winter Fayre into action. As you know, the Friends of Huntingtower association is no longer active but the good news is that many of the members will continue to volunteer at fundraising events. If you are also interested in helping, please pop into the office and let the admin team know.
Finally, on Tuesday, 12th November at 6pm, we will be holding our Welcome Evening for prospective parents of 2020 Reception pupils. We look forward to welcoming new and existing parents so we can support them with the important process of selecting a primary school for their child's next stage in education.