The End of a Great Term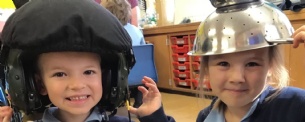 What a wonderful first term we have had. Not only have we welcomed all of our new Early Years' pupils and their families, we have also welcome ten other pupils across the year groups. They have added to our community and we love having them with us. Over the year, we will be exploring the different elements of what makes a good citizen and I have to commend our pupils for making a great start as 'sociable citizens'. They have helped our new pupils settle into our classes and routines and have begun to build some strong relationships.
It was lovely to welcome back our old friends from the Sunshine Rotary Club to present our Rotary Star award. This award reflects the Trust value of Generosity that is so important to us. Please see Tower Times for more information.
Finally, as we head towards a week's break from the academy, we would like to thank everyone for their hard work. We hope you have a good holiday away from the academy routines and find some time to relax and recoup after a busy term (with a good book is best!). We look forward to seeing you back at the academy on Monday, 28th October.