Making the Most of Every Moment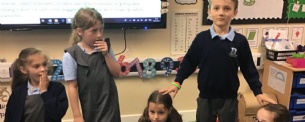 What a busy week we have had at the academy. It was wonderful to meet with parents and carers at Parents' evening this week and we hope you found it beneficial. It really was a community event with the Book Fair and the pop up Uniform Shop at the academy too. With every book purchased, Scholastic give money to the academy to buy more books so we would like to thank you for your support.
We would also like to thank you for your support on Thursday for World Mental Health Day. The day was certainly brightened by the children's yellow additions to their uniform and I was awed by their perceptive ideas during our special assembly. You should be proud of how understanding your children are of others and also their knowledge as to how they can help themselves in a range of situations.
With one week left in this half term, we are looking forward to celebrating our Rotary Stars. These pupils will be nominated for their generosity and understanding of others. Our visitors from the Sunrise Rotary Group will be presenting the identified children with certificates on Thursday, 17th October.