We Are Sociable Citizens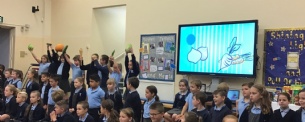 It has been another busy week at the Academy. Last week, the children in Year 1 to Year 6 all excised their democratic rights and voted for both their Tower Captains and Academy Councillors. In addition to this, our Year 5 and 6 pupils have had courage in their beliefs and put themselves forward for the additional roles of Reading Buddies, Sports Ambassadors and Mini-Police. Please see the video to find out who has taken on these new roles. The children cannot wait to begin and are keen to contribute to the community that is the academy.
A huge well done goes to our Year 4 classes who presented their Harvest Assembly on Tuesday. They thought hard about the messages behind why Harvest is celebrated and spoke well and clearly for all to hear. Thanks goes to everyone who contributed food items for celebrate this event. Again, the academy chose to support the local Food Bank as we know that this charity is very important in our local community.
Don't forget that next week is an opportunity for you to come and meet with your child's teacher to find out how they have settled at Parents' Evening on Tuesday, 8th October and Wednesday, 9th October (3.30-6.30pm). During this time, there will be an opportunity to visit the pop-up Uniform Shop (located in the library) as well as the Book Fair (in the Studio). We look forward to seeing you.