Fabulous new wall hanging unveiled!
A great legacy to 2012 and the history of our school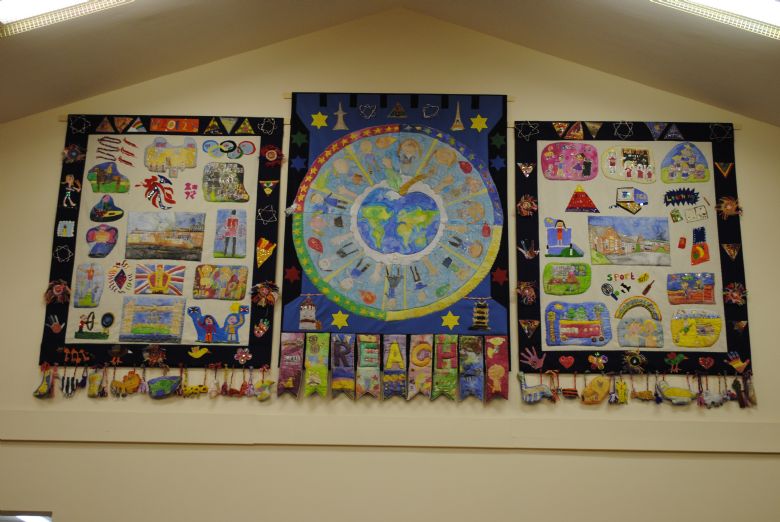 The project began with an idea to create an amazing group of wall hangings to celebrate the school and to provide a vibrant creative legacy to brighten up the school hall. The school worked with local Textile Artist Sue Rowland to plan the project.
The children developed some research drawings over the summer holidays. The theme for these was the Olympics, the Golden Jubilee and activities and values that are special to Huntingtower School . These were followed by a whole school input into further drawings for additional themes such as children in uniform and the animal class symbols. Sue then selected from these the ones to use for the textile work.
During a three day residential art workshop Sue worked with 60 gifted and talented students teaching them silk painting, fabric painting, weaving and yarn techniques to create wonderful pieces for the wallhanging.
A twilight session for parents, staff and carers gave the adults a chance to see the work and to add their input to the textile pieces- sewing on beads and hand quilting.
All the pieces were then taken back to Sue's studio for the long task of machine and hand sewing the huge panels.
Once completed the children's fantastic work was displayed in the hall (with the help of a scaffolding tower) for the children to see in the New Year and the school to enjoy for years to come.
A huge thank you goes to the PTFA, in particular Mrs Goddard-Tate and Mrs Sheehy, and Miss Fowkes and Mrs Coyle for their co-ordination of the project. A superb communittee project.