A real aaaah moment!
A truly special moment where our Foundation Stage children learn all about weddings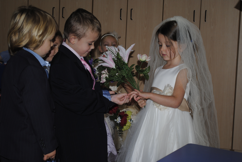 On Friday 9th November, all of the children in our Foundation Stage were involved in role playing a wedding. They all had a part to play including the bride, groom, bridesmaids, best man, ushers, photographer and guests. We had a fabulous time and it really brought our celebrations topic to life. The children carried out wedding based activities all week including writing a place card, decorating wedding cakes and wrapping 3d gifts during Maths. We would like to say a big thank you to all our parents for the fabulous wedding costumes provided. The children had a learning experience to remember and the grown-ups enjoyed it too!