DADS, LADS AND LASSES CHALLENGE!
Role models help the children compete for coveted awards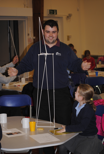 On Monday 12th November, after school, Mr Anderson set challenges for the children to build a tower and make mini paper airplanes with the help of their adventurous dads. However, it was not as easy as it sounds, because we had to complete mini challenges to earn the equipment we needed in order to build the towers and planes. The mini challenges we had to complete were things like brain teasers or card tricks.
Finally, we flew our planes to see whose would travel the furthest. Teams received a certificate if their planes came first, second or third. Also certificates were awarded for the tallest tower and the best looking plane.
We all had such a great time, it was very fun!
Bethany Richardson and Connor O'Flaherty