VICTORIAN DAY FOR YEARS 5 AND 6
Children enjoyed life in a Victorian school.......but not as much as the staff!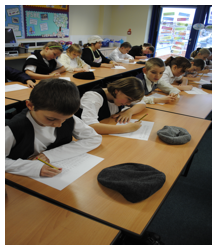 Years 5 and 6 children took part in Victorian school day before the half term holiday. They all came in their best Victorian outfits and took part in different activities throughout the day, such as chanting times tables, reciting poetry and handwriting practise with blackboards and chalk. In the afternoon, the girls and boys were split, just as they would have been during Victorian times. The boys took part in construction and the girls spent the afternoon sewing. It was a great day, and all the children and staff had lots of fun.