INSPIRATIONAL STEVE CUNNINGHAM VISITS HUNTINGTOWER
Huntingtower meets the fastest blind man in the world.......in a car!!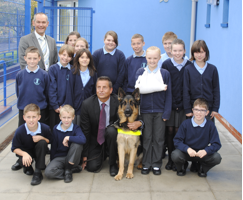 Steve Cunningham was inspirational to me because, even though he was blind, Steve had ambitions and dreams of what he wanted to do like; fly a plane, drive a racing car for charity and drive a speed boat on the English Channel!! His dream was to be a footballer, for Aston Villa, and captain the England football team, and he achieved it! So if you have your own ambition you will achieve it like Steve.
Find out more about him at www.blindvision.tv
Written by Years 5/6