Hot School Meals
We are pleased to offer hot school meals everyday in our kitchens at Huntingtower Academy provided by Ideal. For £2 per day, there are 4 main menu choices followed by a pudding or fruit - this is excellent value in our opinion. The children have shown an enthusiastic response to the new dinners and parents are able to use the online ordering system to purchase meals (https://www.parentpay.com/). Every pupil has a secure online account which parents need to activate so orders can be placed directly to the kitchen. This makes school dinner ordering easy peasy. From Tuesday 18th April 2017 all lunches must be pre-ordered a week in advance, meaning all orders for a week have to be ordered by the Sunday before that week starts. Therefore choices for that 1st week back after Easter need to be ordered by Sunday 16th April.
The kitchen frequently vary the menu and have themed days. Pictured is a Red Nose Day meal where the children were given fantastic red nose cakes. They really loved it! The menu is varied throughout the term to provide a balanced diet and the children encouraged to make good choices about what they eat. Some weeks there will be a "meat free Monday" where alternatives to meat are offered. The quality of the food is great.
The experience in the dining hall is a social one. The children are encouraged to share their experiences of the day and enjoy mealtime, much as you would as a family.
CANCELLATION - HOT SCHOOL LUNCHES If you need to cancel your child's hot lunch, the deadline is 8.30am on the day of absence and the number to call is 01522 246424.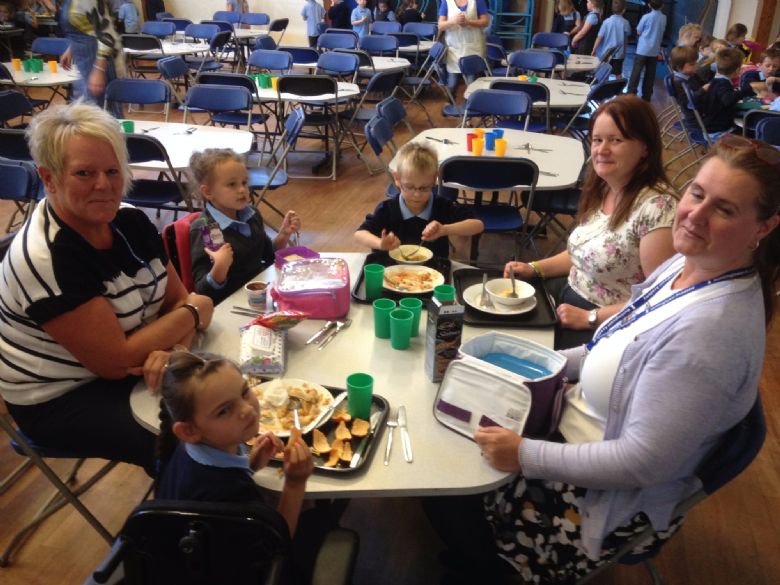 Why not visit our instagram page to see what's cooking in the kitchen.